Holiday Art Workshop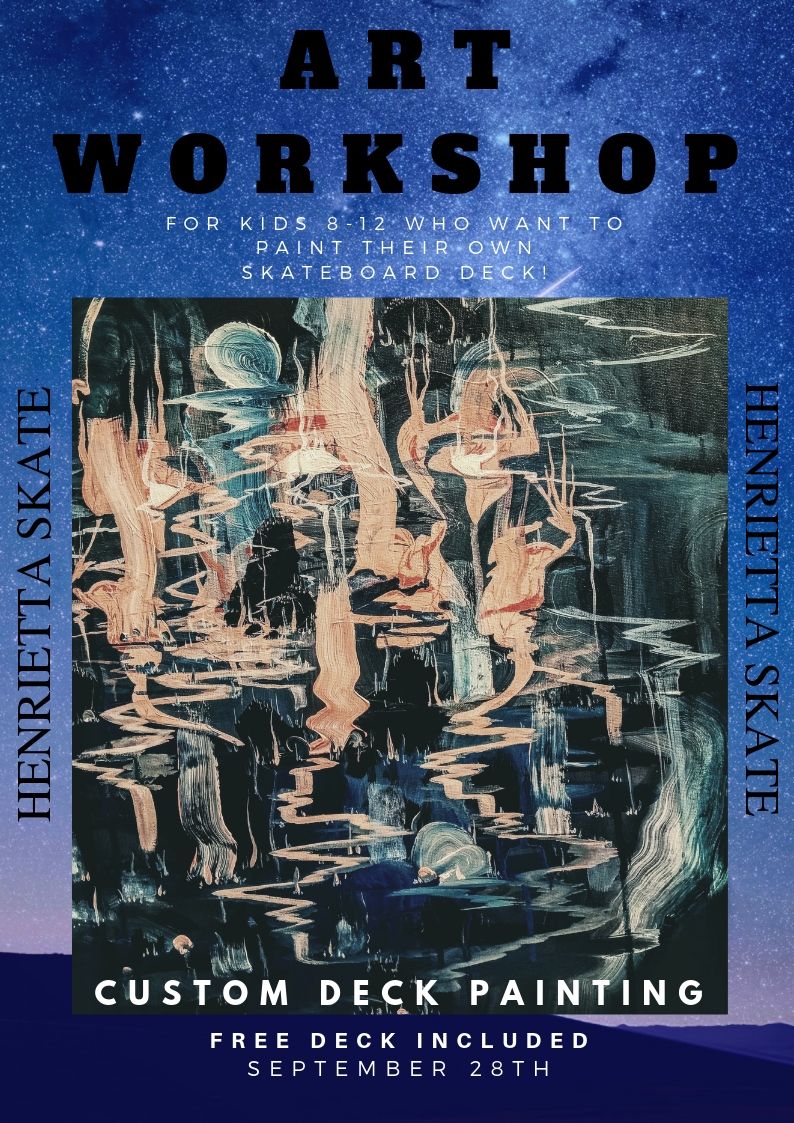 Looking for creative things to do in the school holidays? Do your kids skateboard or are you looking to get a them a cool and unique skateboard deck? Then Henrietta's has what your looking for! We are offering a limited number of spaces for some exciting skateboard painting workshops hosted by Henrietta Skate at their store front in Manly on Sydney's Northern Beaches. Henrietta Skate are a local and independent skateboard shop that are community focused and love promoting the arts industry and creative outlets for children. That's why we have blended our passion for skateboarding and the arts by hosting a skateboard deck painting workshop. The event will be run by local artist Brooke Keogh who will give the kids so hot tips on how to make use stencils and about the rough materials. You bring your kids we supply the rest for a super fun morning by Manly's iconic beachfront.
The skateboard painting workshops will take place from 8.30-9.30am and 10.30-11.30am on Saturday the 28th of September 2019. The recommended age is between 8-12yo but if have a child outside of this age group and they express interest in the workshop don't hesitate to contact us and we can try and work them in. We will have the staff to take care of the children if you want to leave them with us for the hour otherwise we welcome parents to stay and be a part of the fun.
The skateboard deck and materials are included in the price of $80 per person. The kids have one hour to make create whatever they want on their very own custom skateboard deck and can leave the board to dry and be cured at the shop afterwards or can be taken home on the spot to dry there. We also have a store full of fun skate board parts if you want to turn that deck into a full skateboard after the workshop. Any full skateboard purchase will include and free group skateboard lesson that take place on Sunday mornings. If you are interested in booking in your child into either our deck painting workshop or any of the lessons we offer please contact us at info@henriettaskate.com.au.
---
Leave a comment